U individuální terapie se zaměříme na potíže, který Vás trápí hlavně v oblasti zad, plotének, bolesti kyčlí, blokace krční páteře, často spojené s bolestí hlavy – migrény. Tato terapie je vhodná v případech psychických problému, které často na sebe váží problémy se zády. Nabízím diagnózu na chodidlech, která pomůže určit příčinu Vašich zdravotních problémů.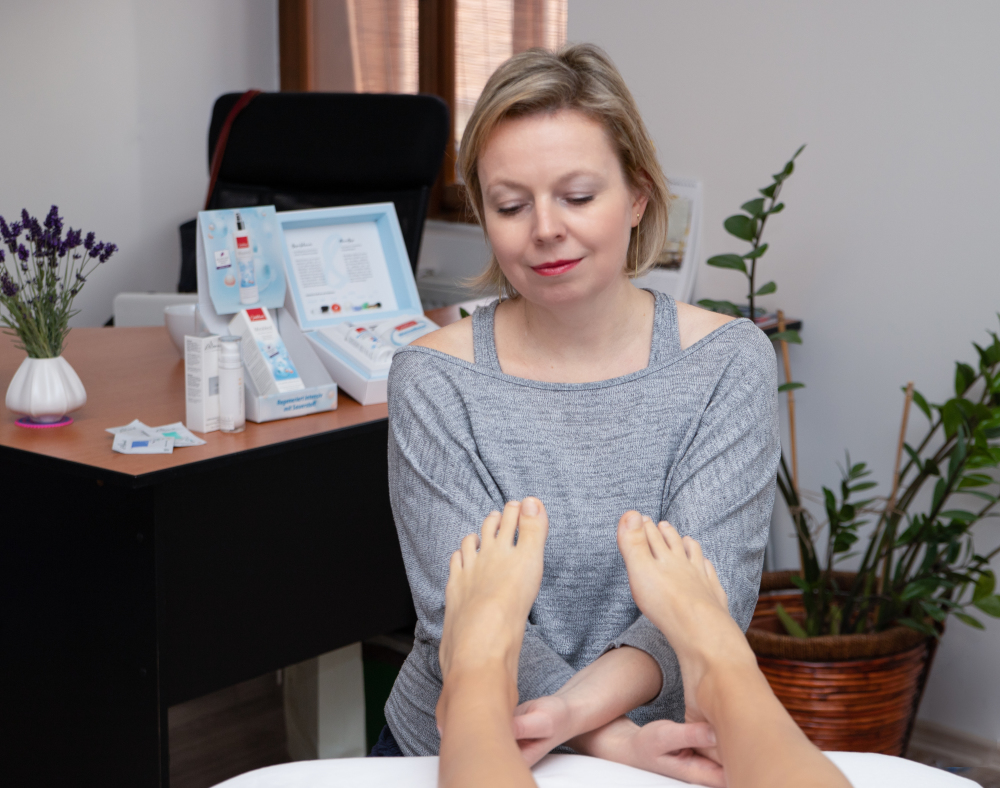 Probereme co Vás bolí a trápí. Domluvíme se předem jakou metodu zvolíme, tak aby byla pro Vás co nejpřínosnější.
Průběh terapie
U samotné terapie používám reflexní uvolnění zad a Breussovu masáž zad, terapii teplem pomocí rašeliny,  uvolnění krční páteře v sedě. Velmi účinná reflexní terapie – tlaky ovlivňuji reflexní plošky na chodidlech, které příznivě ovlivňují funkci vnitřních orgánů, uvolňují pohybový aparát, blokády na páteři, bolesti hlavy. Dále masáž šíje v leže , popřípadě masáž celých zad. V případě vyčerpání a špatného psychického rozpoložení klienta používám jemný tlak na body – akupunkturní body – na energetické zprůchodnění těla, které je pro klienty velmi uvolňující.
Uvolnění krční páteře
Probíhá v sedě na židli. Nedělám žádné trhavé a prudké pohyby. Uvolnění je za pomocí palce, který přiměřeně stlačí body podél páteře, úponů pod týlní kostí, uvolní  ramenní pásy. Pohyb v krční páteři je pomalý,  spojený se stiskem bodů, které uvolňují šíjové svalstvo.
Breussova masáž
Regeneruje meziobratlové ploténky, čímž řeší široké spektrum zdravotních problémů. Mimo to uvolňuje i psychické bloky. U klientů je velmi oblíbená. Je to velmi příjemná masáž. Dá se provést jako samostatná masáž.
Reflexní terapie
Reflexní terapie pracuje s reflexními body, které jsou po celém těle, nejčastěji se ovlivňují reflexní plošky na chodidlech.
Kdy je reflexní terapii vhodné využít:
bolestech zad a plotének. Problémy s ploténkami souvisí většinou s oslabenou ledvinovou  energii
blokace krční páteře – často souvisí s disharmonii v žlučníku a játrech a z těchto důvodů velmi  často vzniká bolest hlavy –   MIGRÉNA
bolest kloubů – často spojenou s oslabenou energii v ledvinách, hromadění odpadních látek, nadváha a špatné stravovací  návyky
zlepšuje zažívání, činnost vnitřních orgánů
pomáhá s únavou, nespavostí
celkově aktivuje imunitní systém
účinkem reflexní terapie dochází k DETOXIKACI těla
CENA:
Komplexní reflexní terapie……….,,,,,..90min/650kč (zahrnuje reflexní diagnózu, uvolnění krční páteře, zprůchodnění meridiánových drah, reflexní terapii na chodidlech a masáž vycházející z Bresse)
Dle dohody lze sestavit terapie…………60min/400kč